This financial promotion is intended for retail clients. Please note that this information is of a general nature only and is not intended to address the specific circumstances of any particular entity. Also please be aware that this information is not necessarily comprehensive, complete, accurate or up to date. Collect & Pay is not a financial adviser. You should consider seeking independent legal, financial, taxation or other advice to check how the information published by Collect & Pay relates to your unique circumstances. Licence #AFSA-G-LA-2020-0005 with expiry date of 23.04.2022. Please learn more about the regulatory status of Collect & Pay : www.collectnpay.com.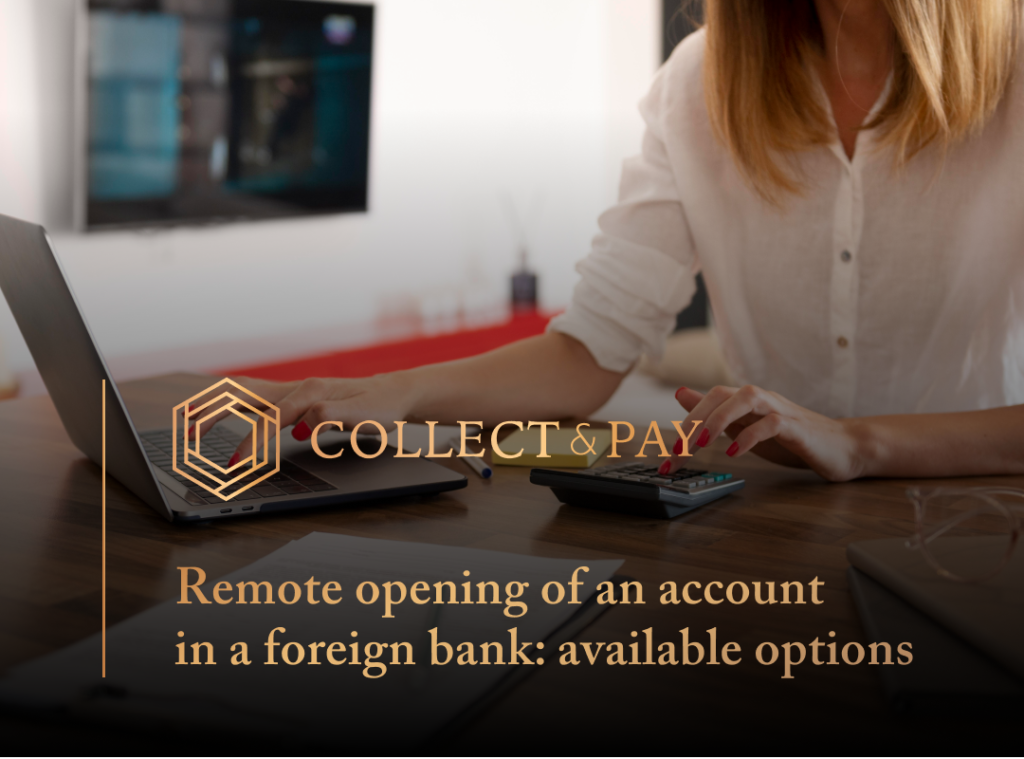 Today, the process of opening an account with an international bank is associated with many difficulties and can take from 3 to 12 months. At the same time, the list and number of documents confirming real economic activity can be impressive. Fortunately, traditional banking institutions are no longer an affordable business solution. Therefore, below we will tell you where a client from anywhere in the world can remotely open an account in a foreign bank.
Open an account in a foreign bank, payment system or Collect&Pay – what to choose?
The main advantage of international business and remote work is the ability to work with the section from all over the world. Working with different customers or managers requires not only perseverance, but also a careful selection of financial options.
Open a bank account in Collect&Pay – contact@collectnpay.com
Benefits of remote opening of an account with a traditional foreign bank
The most common option for a business is to open an account remotely in a regular bank. But due to constant changes in legislation, the requirements for clients are increasing, and the process of opening an account becomes more complicated.
Among the advantages of having a corporate account abroad, we note:
wide range of services

deposit insurance

access to various systems of international transfers

diversification of assets

investment services

increasing the business image
The only drawback of traditional banks is the lengthy process of remote identification.
Benefits of remote account opening in a payment system
A payment processor is a company that provides financial services similar to those found in traditional banks. They open mono-currency or multi currency accounts, allow international transactions, and issue payment cards.
The advantage of payment systems:
simplified identification procedure

the ability to open a multi currency account

the procedure for opening an account takes from several hours to several days

access to payments 24/7

connection of a merchant account

issue of personal / corporate cards Visa / MasterCard

access to transfers SWIFT, SEPA, CHAPs, FPS

personal IBAN account
Benefits of remote account opening in Collect & Pay
Collect & Pay is a licensed financial institution that provides services exclusively via the Internet. We don't need your physical presence to provide all of the documents and open an account. 
The functionality of corporate accounts in Collect & Pay depends on the national legislation and regulatory authorities of the jurisdiction where such a financial institution is registered. In general, business prefers to cooperate with digital banks, as this allows:
make fast transnational payments and transfers

redirect financial flows in order to increase efficiency

use a wide range of banking services

use a high level of confidentiality
What can a business get from a foreign account?
A well-chosen banking or non-banking institution will offer the business several options for excellent financial products and will operate in different countries with high standards of confidentiality for client accounts.
These are the main points to which domestic entrepreneurs should pay attention. A reliable banking institution is guaranteed to provide:
confidential transactions – the flow of income and the volume of transactions will be strictly confidential, without disclosing financial information

attractive and favorable conditions – with large transaction volumes and high turnovers, there is still a relatively low commission

protection of business from sudden inflation, loss of capital in case of exchange rate fluctuations
How to open a foreign bank account remotely?
It is difficult to find a reliable banking, non-banking institution and open an account without understanding the intricacies of the client's business and the jurisdiction of registration of his company. To do this, you need to calculate what currency will be used, what type of account is needed, with whom the organization cooperates and what turnovers are planned.
In order not to be mistaken with the choice of a bank and open a corporate account that fully meets the needs of the business, you will need to find out if the company providing services for opening a business account had problems with financing or customer support.
If a foreign bank is reliable and stable, make sure that its correspondent accounts and available functionality will allow you to carry out the currency payments you need quickly and safely.