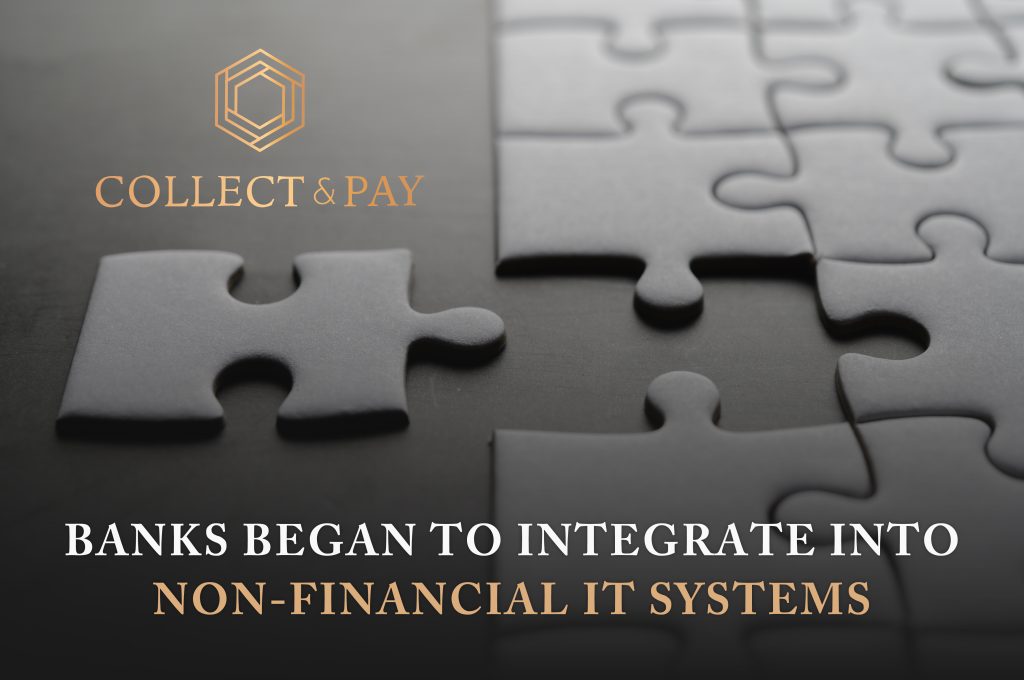 Financial services have begun to integrate into non-typical digital solutions, including enterprise resource planning (ERP) systems and supplier relationship management (SRM) systems. How do banks use financial technologies in the fight for a client?
Ecosystems consisting of banks, fintech startups, and ERP systems will become the competitive "unit" of the future, Gartner predicts. By 2026, 50% of large companies will compete as collective digital ecosystems, sharing assets, innovation and data.
Banking services are being built into retail, marketplaces, and telecoms. While non-financial services are beginning to provide their customers with banking services. The market for embedded finance and BaaS (Banking-as-a-Service) in 2021 amounted to $43 billion, and in 2026 it may exceed $138 billion. Market growth of more than 215% will be driven by the growing availability of APIs from financial service providers. Simple API integration will lower barriers to accessing financial services and create new opportunities for embedded financial service providers. (1)
The BaaS market trend of 2022 is the active introduction of financial services into systems for managing company resources: procurement, production, and logistics.
Let's analyze the most striking examples of how financial services are built into platforms not related to banking.
Finance in cellular services
Turkish mobile operator Turksell has launched Paycell mobile payment service. Most day-to-day operations such as buying fuel; Money transfers; bills are paid remotely through this service using QR codes. The use of mobile payment service by a mobile operator looks logical and justified since in both cases the functionality of mobile devices is used. In addition, Turksell offers Financell, which specializes in loans, and Güvencell, which offers insurance services.
Kenya-based telecoms provider Safaricom has made the most profit from its own mobile payment service, M-Pesa, which is used by over 25 million Kenyans. Safaricom's financial service consists of several elements: m-tiba – remote provision of health care services; Fuliza is a consumer loan service with an overdraft facility; Digi Farm – credit services in the field of agriculture. The example of Safaricom demonstrates another trend of embedding financial services on atypical platforms – close cooperation with the financial structures of KCB Group and Visa.
Japan's mobile operator NTT DOCOMO's profits skyrocketed as it expanded its services by introducing the Dpay payment service, where customers could pay for online purchases from their phone bills.
Finance in games, logistics, b2b sales
Financial services are also used by manufacturers of computer and mobile games.
Mana Interactive introduced the Mana deposit account and Mana Visa debit card service, closely related to the gaming experience. Players can make purchases in the Mana Interactive store in the shortest possible time, for which they will be rewarded with a gaming experience and additional preferences.
In addition to the telecommunications and gaming sectors, financial services are embedded in the activities of logistics companies. The Chinese firm Changjiu Logistics specializes in the transportation of spare parts, but this does not prevent it from providing loans to customers, as well as factoring and invoice discounting services.
Hokodo has built a financial service and installment into B2B sales. The service checks the solvency of the borrower and knocks money out of him in case of problems, earns Hokodo on commission.
Western banks are following the path of building ecosystems of their own non-financial services. Goldman Sachs, JPMorgan Chase and Citigroup, as well as retail banks such as BNP Paribas, are funding fintech companies using products and platforms. And British financial technology company Revolut is teaming up with US electronic payment service Stripe to operate in the UK and Europe and plans to use Stripe's infrastructure. (2)
It is very important for every business to choose a convenient and affordable payment system, especially if you work with international clients. Fintech company Collect & Pay Ltd provides the best payment solution for your business. You can open an account remotely and start sending money to your customers online. Contact us to open an account – contact@collectnpay.com
1 arf.one/insights/what-is-embedded-finance-and-why-is-it-important/
2 www.businesswire.com/news/home/20210719005652/en/J…ompetitive-Landscape
_________________________________________________________________________________________________________________________________
Disclaimer: The article is meant solely for educational purposes only. By viewing any material or using the information on this page you agree that this is general education material and you will not hold any person or entity responsible for loss or damages resulting from the content. Collect & Pay Ltd is authorized by the financial regulator of the AIFC, Astana Financial Services Authority ("AFSA"), to conduct the activity(-ies) of Providing money services in a testing environment of FinTech Lab* (AIFC regulatory sandbox) under the Licence #AFSA-G-LA-2020-0005 with an expiry date of 01.10.2022. The status of the license and its validity may be verified at the AFSA website (www.afsa.kz).